Johnathan, 20
Sophomore, University of Central Florida
Jonathan was being pressured to study premed but has decided to pursue marketing instead. He struggles with going against the advice of his family and friends.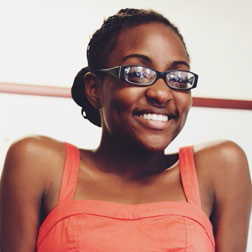 Jasmine, 20
Junior, University of South Carolina
Jasmine has always put others before herself. As she branches outside her comfort zone, she's also learning to make herself a priority. She is excited to pursue her degree in education and one day become a middle school teacher.
Felipe, 24
Recent Graduate, University of California, Irvine
Felipe is looking for ways to mentor young people and make a difference in his own community. He feels he has a great responsibility to make the most of his education and hopes to inspire other young people to go to college.
Jenny, 19
Freshman, Mississippi State University
Jenny has weathered family struggles to get to college. Now that she's pursuing her education, she's torn between her love of art and her desire to find a job after she graduates.